When it comes to flooring, there's no need to sacrifice beauty for function or price.  Luxury vinyl flooring is the perfect solution when you want the look and feel of high-end flooring without the high costs.  Explore our inventory at Bay Country Floors to find an impressive array of stunning and affordable luxury vinyl options that will beautify any space.
What is luxury vinyl and how is it made?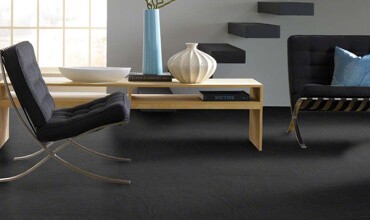 Luxury Vinyl Tile
Designed to mimic the look of natural stone or ceramic tile, with hyper-realistic colors and textures that make these tiles look and feel just like the real thing! Some of the designs that we carry from Shaw Floors are even made to be installed using real grout for another layer of authenticity.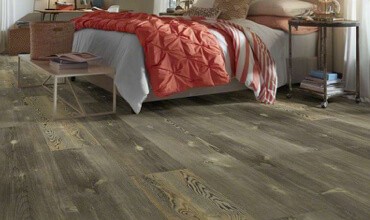 Luxury Vinyl Plank
Like LVTm but with the look of natural hardwood planks. You'll find these in just as wide of a variety of styles, including hand-scraped wood. LVP can be installed more easily than real hardwood, in uniform lines, staggered patterns, or even diagonal layouts for a fully customizable look.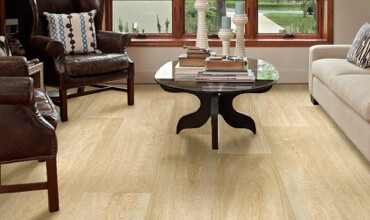 Sheet Vinyl
A cushioned sheet of vinyl that gets adhered directly to your subfloor in one piece. You'll find Shaw Floors sheet vinyl designs at Bay Country Floors that are even more affordable cost. One thing to consider – while beautiful, the level of realism of LVT and LVP can't be matched by sheet vinyl.
The Benefits of Luxury Vinyl Flooring
You can rely on luxury vinyl to gracefully withstand daily wear and tear in both residential and commercial spaces, including heavy foot or rolling load traffic. This sturdy flooring solution holds up extremely well in high-traffic areas. It may look and feel like authentic hardwood or tile, but its durability lends it a practicality that surpass other hard-surface flooring options. Available in plank or tile sizes, some luxury vinyl products are waterproof, like COREtec, which can make it perfect for areas prone to water.
Luxury vinyl comes in many different styles, patterns and colors – and can even be customized, depending on the project. In general, with vinyl it is easy to create distinct designs, especially with today's flooring technology. For practical, durable floors that also look fantastic and hold up well in busy environments, luxury vinyl is a high-performance floor worth investing in.
Vinyl is easy to clean and requires minimal maintenance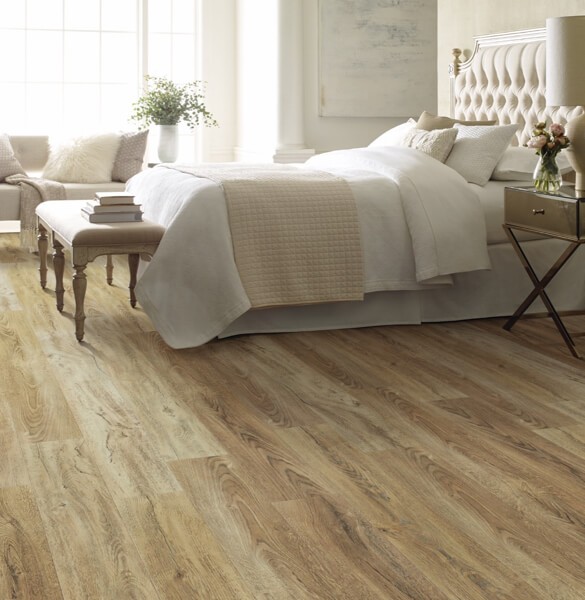 What is vinyl?
If you're looking for sophisticatedm yet practical floors that look and feel like natural hardwood or tile, consider luxury vinyl. You'll get the styles you want at a fraction of the cost. Available in luxury vinyl plank (LVP), which resembles hardwood planks, & luxury tile (LVT), which mimics ceramic or stone tile, these floors resemble their natural counterparts in everything but price. Stylish, resistant to scratches, moisture, and most stains, luxury vinyl is extremely cost-effective, not to mention easy to care for. Visit Bay Country Floors to find gorgeous and practical luxury vinyl.
FAQs about Vinyl Flooring
Still looking for more info about vinyl flooring? Here are some of the vinyl questions
we get asked most often by our customers here at Bay Country Floors.
Yes! Be sure to obtain your product at least 48 hours before installation and leave it in the room in which it will be installed. This will allow the planks or tiles to acclimate to your room's climate. Once installed, luxury vinyl will not expand or contract from moisture.
Want to learn more about luxury vinyl tile flooring?
Give us a call or visit our showroom today!