Hardwood Flooring in the Baltimore Area
The epitome of elegance, lustrous hardwood floors elevate the level of sophistication in any room. With so many different types of hardwood to choose from at Bay Country Floors, not to mention the wide variety of color variations & grains, you'll have ample opportunity to make a unique and memorable design statement in your home or commercial space.
Durable and beautiful, hardwood floors offer add long-lasting value to any home or commercial space. If cared for properly, they can last for a generation, offering style and ambience that will never feel outdated. There are many elements to consider before selecting which hardwood is right for your design needs, including grain pattern, color shade, and construction. These characteristics all affect the overall durability, resilience and style of the hardwood floor you will choose. While colors range from light to dark shades, natural variations in grain patterns offer either a contemporary or traditional look and feel. Another aspect to consider is whether you prefer solid or engineered wood; while solid planks are made from one piece of wood, engineered planks contain several layers of wood and can withstand humidity better. Come visit Bay Country Floors to find the right type of hardwood for your flooring needs.
Hardwood Styles
Explore our wide variety of featured brand-name hardwood floors and find the exact style and color you need to enhance the look of your home or business.
Hand Scraped

Hand scraped hardwood provides a warm, soft look that adds comfort and style to any home or business. When applied to both engineered and solid hardwood floors, the hand scraped look can give any room in your home or office that age old feel. 
Distressed

Each plank is not only intentionally distressed, but artistically created to simulate the marks left behind by age and wear. The distressed look of hardwood floors achieves the balance of both the modern styles of today and the antiqued appearance of yesterday. 
Wire Brushed

Wire brushed engineered and solid hardwood floors, provide a textured yet smooth look to your flooring surface. Wire brushes glide across each plank pulling the soft grains up into the woods surface providing softness and comfort underfoot.
Smooth

Smooth hardwood floors provide the traditional look and feel to any home or business. This warm look can come in a low, medium or high gloss finish to achieve the desired look you want. Smooth hardwood floors can provide elegance and charm to suit all your design needs.
FAQs about Hardwood Flooring
Still looking for more info about hardwood flooring? Here are some of the hardwood questions we get asked most often by our customers here at Bay Country Floors.
No, you can have hardwood floors in your pet friendly home. You will find hardwood floors in many homes with pets, but there's always the risk of scratching. Luckily, in most cases, when scratching does occur, it will reside in the top layer of the wood surface, rather than the wood itself and can easily be fixed with most furniture and flooring markers or putty pencils.
Regardless, you should strive to keep your pets' claws neatly trimmed. It is best not to place their water or food dish directly onto your hardwood floor. Consider laying down a mat with a rubber backing to provide maximum protection from any spills that your pet may leave behind.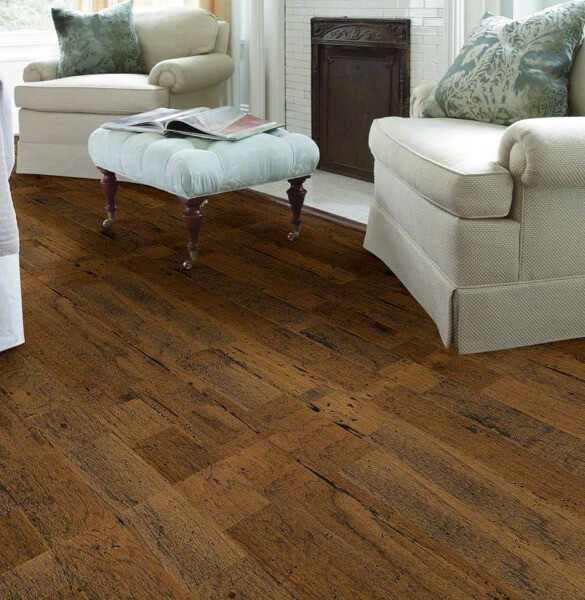 Features & Benefits of Hardwood
Hardwood floors add class and style to any home or commercial space. In addition to upgrading your interior, hardwood floors are practical given their longevity. With renowned durability, hardwood floors can last a lifetime if properly cared for. And their wide variety of grain patterns, color shades, and species, ensures a versatility and uniqueness that will complement its surroundings, no matter how often you change the room's décor.
Hardwood floors are also hassle-free when it comes to care and maintenance. Though certain hardwood floors are considered expensive, many are very cost-effective given their durability and longevity. Also worth considering is that hardwood floors can be affordably refinished or resurfaced instead of being replaced. Hardwood flooring means timeless beauty and function.