Now that you have a stunning new area rug, it's time to invest in area rug pads to help preserve its beauty. Area rug pads are thin underlays that are specially made to be used under area rugs to simultaneously protect both your rug and your floor. While not an absolute necessity, at Bay Country Floors, we highly recommend buying a high-quality area rug pad so you can prolong its lifespan and get the most enjoyment out of your rug for years to come.
If this is your first area rug, or the first time you've heard about area rug pads, our flooring experts want to provide some background on what types there are, the most recommended materials to look for, and why we think area rug pads are important. Ready to learn more?
The Main Types of Area Rug Pads
There are three main types of area rug pads for hard-surface floors, especially hardwood.  They are non-slip, cushioned, and pads that offer a combination of both. An additional type is a rug-to-carpet pad. As you'll see below, each type offers its own added value and benefit according to the size of your area rug and where it is located within your home.
Similarly, there are three recommended materials to look for in your area rug pads: natural rubber, felt and a combination of both.  These particular materials all tend to be acceptable for use on a wide variety of hard flooring surfaces and, generally speaking, won't harm them. It's recommended to choose an area rug pad made with these materials, as pads made from glues, plastic, or adhesives, can stick to or stain hardwood, vinyl and even laminate floors. Let's take a closer look at the different types:
Non-Slip Area Rug Pads made from natural rubber are, like their name suggests, designed to prevent rugs from slipping, wrinkling and bunching on hard-surface floors. These pads simultaneously grip the area rug and hold it in place, providing a cushioned, protective layer between the rug and floor. While they can be used with all rug sizes and types, at Bay Country Floors, we recommend them for area rugs located in high-traffic areas where thin rugs may be especially inclined to slip and slide.
Cushioned Area Rug Pads made from felt make area rugs softer and more comfortable underfoot. These cushioned pads add a plush layer to larger rugs that are located in areas that get a lot of visitors. As area rugs in these rooms tend to be anchored by furniture, grip is less important in this area rug pad, which is good because felt is not always successful in holding area rugs in place. However, these felt cushioned pads do provide firm support for the area rug, which is important.
Cushion + Grip Area Rug Pads made from a combination of natural rubber and felt are multi-purpose, anchoring area rugs firmly to the floor while adding a layer of comfort to them. These combo area rug pads are recommended for thinner, smaller area rugs that are prone to slipping and/or wrinkling and therefore need more grip as well as more support and greater cushioning.
If you plan to lay an area rug over carpeting, look for a specially designed rug-to-carpet pad. These pads are typically made of polyester with a vinyl coating and are made to prevent the rug from bunching up on the carpet underneath.
At Bay Country Floors, we know that flooring, including area rugs, is a big investment of time and money. That's why we believe that area rug pads are worth the small added expense to protect your floors. Using them can prevent a larger expense later when you may need to repair any potential damage that could happen without them!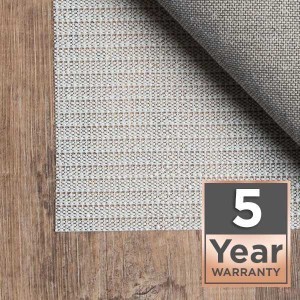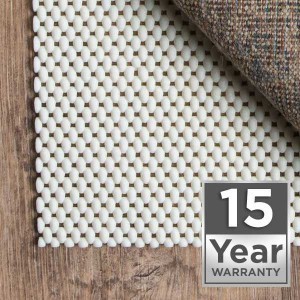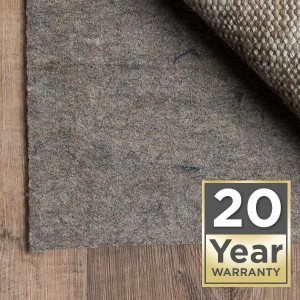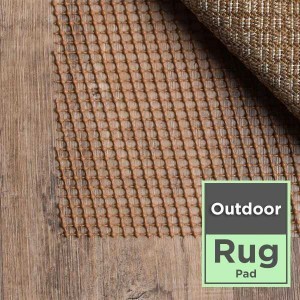 What to Know before You Buy
There are many different available rug pad options in various materials not mentioned here. Therefore, it's important to note that not all options suit every use. So, even if this seems self-evident, remember that when buying an area rug pad, you should look for a pad that is specifically designed for use under an area rug.
Before selecting your area rug pad, review your flooring manufacturer's recommendations. Some materials found in various area rug pads may not be recommended for use on certain types of flooring, and they may cause damage to your existing floor, like discoloration or worse. Also be sure to check out your floor's warranty to see if any materials are prohibited from use.
For any other questions, including how to measure your area rug for a rug pad or which type of area rug pad is better for your particular floor and lifestyle, feel free to contact us at Bay Country Floors. One of our experts will help you find the best area rug pad for your area rug and floors.
Still have a question about the best rug pad for you? Contact us or visit us today.